Area Info
Our neighborhood, Ann Arbor's historic Old West Side, offers wonderful walking through tree-lined streets filled with historic, turn-of-the-century homes.
We are WALKING DISTANCE TO EVERYTHING!
Head just 3 blocks east and you'll arrive on Main Street at the heart of downtown Ann Arbor, home to plenty of restaurants, shops, bars and entertainment venues. Every summer, during the 3rd week of July, Ann Arbor hosts one of the country's best Art Fairs.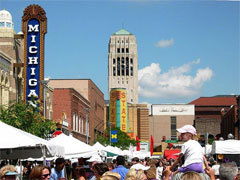 Several blocks further east (within easy walking distance) is the University of Michigan's main campus where you'll find various cultural events at venues such as the university's Museum of Arts, the Power Center for the Performing Arts and Hill Auditorium.
Within walking distance to the southeast is the University of Michigan's football stadium and entire athletic campus, home to football, hockey, basketball and other sporting events throughout the year.

Ground Transportation
This Michigan Flyer is a great way to get to and from the airport almost to our doorstep!



Once you're in town and need to get from A to B give Kevin a call at Boober Tours and you can ride in style!
Things to do in Town
There are so many things happening throughout the year in Ann Arbor, here are a few links to help you plan the perfect trip for you:
Ann Arbor calendar of events University of Michigan events
University Musical Society Ann Arbor Art Fair
University of Michigan Athletics Michigan local news, sports & weather
Main Street Area Association State Street Area Association
Kerrytown Historic District Association
Plan your perfect Michigan Kayaking adventure

Recommended Ann Arbor Caterers
If you are planning on gatherings big or small these area caterers have got you covered!
Zingerman's Catering Katherine's Cathering Simply Scrumptious Catering
Satchel's BBQ Angel Food Catering Shalimar Restaurant (Indian)
EAT Food For All Seasons Produce Station Melange Vinology

Recommended Restaurants
Chop House, Palio, Gratzi Earle Shalimar (Indian) Blue Nile (Ethiopian)
Aut Bar Zingerman's Deli Cafe Zola Pacific Rim (pan-Asian/fusion)
Mighty Good Coffee Seva (vegetarian) Red Hawk Bar & Grill Spencer

Recommended Shopping
Peaceable Kingdom 16 Hands Treasure Mart Hollander's Shinola

Entertainment Venues
The Ark (acoustic, folk music) The Blind Pig (live rock, popular)
The Cavern Club (dance) The Earle (jazz) The Michigan Theatre (art film)
The State Theater (film) Hill Auditorium (music) The Power Center (music, performing arts)
Our Location
Burnt Toast Inn 415 W. William Ann Arbor, Michigan 48103 Questions? Call (734) 395-4114 or email me at: sarah@burnttoastinn.com
---